Sending unique wedding invitations to guests for a wedding is a part of the celebration. You can go for the current trends in the market rather than the traditional ones. The traditional ones typically only have white, gold and red colours in the cards. Now a wide range of colour combinations are available.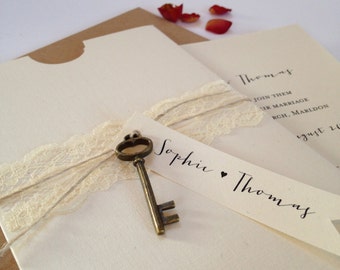 Wedding Invitations Trends | Image Credit: Etsy.com
Currently watercolors are being used to give a personalized effect to make it look beautiful. The bride's and the groom's names in bold, monograms, envelope liners and geometric designs are all the latest trends. You can try stencil designs painted on the wedding cards. You can print the map on the invitation for destination weddings.
Weddings are indeed a huge affair and so the wedding card should also match. You can opt for a colourful card rather than only white. Colors like plum, navy blue, ink, metallic and even black are in vogue. You can go for ornate calligraphy too in your invitations.